JANET SCHLOSS STONE, 93, ART TEACHER
Janet Stone, lifelong art teacher and beloved friend, died in her Wyncote home on August 25, 2008. having lived most of her life within a few miles. She taught so many that the artistic sensibility is neither lonely nor inaccessible. One of three daughters, she and her twin sister were born in 1915 to Edwin H. Schloss, music and theater critic for the Philadelphia Inquirer and Jean Miller Schloss, fashion coordinator for Gimbels' department store, Mrs. Stone's early education was at the progressive Oak Lane Country Day School.
She earned her BS in Fine Arts at Temple University's Tyler Art School, and advanced degrees at the Art Student's League in New York and Columbia Teachers' College and taught in the Radnor public schools in the 1930's. During WWII, she contributed her drawing skills by working as a draftswoman. She met and fell in love with Oscar M. Stone, also from Oak Lane, and like so many of the "greatest generation," married him on a weekend pass in December 1941 in her parents' living room.
When the war was over, they settled in Fox Chase and moved later to Jenkintown with their three children: Bonnie Stone Sunstein, now professor of English and Education at the University of Iowa, David Edwin Stone, Oscar-winning sound effects editor and the late Richard Stone, Emmy-award winning composer. Both sons are Abington High School Distinguished Alumni Award winners.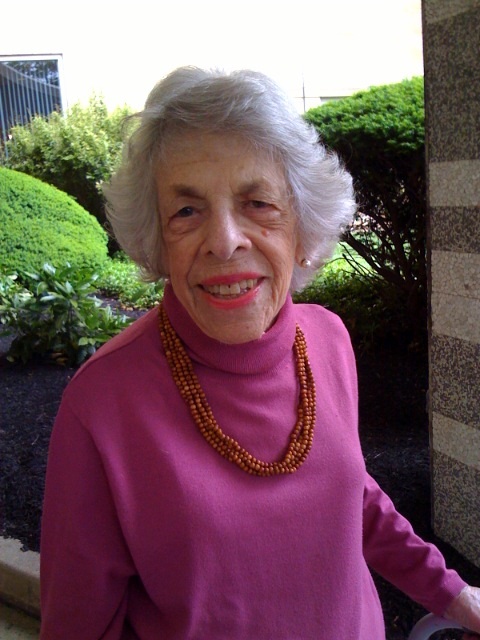 Jan, during a visit from her niece Janet ("Janny") Wikler and great-nephew Jake Goldstein and his friend Alexandra, May 17, 2008 (Photo taken by Janny)
Although her children's jobs took them far from Philadelphia, her five grandchildren loved to return to her home and the art materials she kept in her closet at the Wyncote House: Amy and Stephen Sunstein, Richard and Michael Stone, and Nathaniel Ament-Stone.
Mrs. Stone taught art at Abington Friends School for over 30 years; and, after her retirement, she continued to keep a busy schedule teaching art classes in her home, painting portraits on commission, and attending and teaching classes in Jenkintown and Cheltenham art centers. Mrs. Stone was a fifty-year survivor of breast cancer. Despite the tragic losses of her husband, her twin sister, and her youngest son, Mrs. Stone accumulated another very large "family" of art students, friends, and relatives—people who depended on her for advice and nourishment, who attended to her for years. She mentored them all and absorbed the details of their lives until minutes before she died.
At Abington Friends' three-hundred year celebration in 1997, she said, "Outside my family, teaching was most dear to my heart. There is a richness and belonging in teaching, an amazement that you have set children's souls soaring, eyes shining….most important is having them skip into the art room, for then they will love art all their lives.
In 2001, her daughter wrote, "She didn't force lessons, march us through museums or into concert halls, though when we did go to museums and concert halls, she shared with us what she saw and heard. We'd tell her what WE saw and heard, and she'd listen. When I tried to force a philosophy out of her, I didn't expect what I was about to hear. "So Mom," I asked, "what exactly does it boil down to? "Well Honey," she said, "four things: freedom, a space to work, people to enjoy it, and permission to take risks...."
Mrs. Stone is survived by her sister Helen Hickler, her daughter Bonnie and son David, and her five grandchildren. The family will announce a late September memorial service through Goldstein's Rosenberg's Raphael Sachs, to which condolences may be sent. Contributions can be sent to the Susan B. Komen fund for breast cancer or Abington Friends School