Richard Stone
Nov 27, 1953-Mar 9,2001
---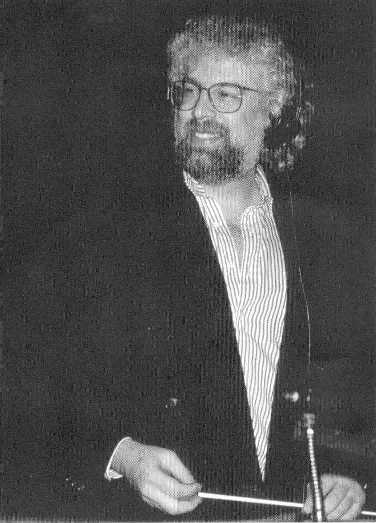 Composer Richard Stone created context, provided texture and generated laughs with his musical scores for cartoon television shows. An animation composer for Warner Bros., he won seven Emmy Awards, including two daytime Emmy Awards for his theme music for "Steven Spielberg Presents Animaniacs" and "Freakazoid" and five others for music direction and composition on "Animaniacs" and "Histeria!". He also scored many episodes of "Pinky and the Brain" and "Tazmania," including the title themes for both, and penned the themes for "Road Rovers" and "The Sylvester and Tweety Mysteries." Click here if you would like to listen to selections of music composed by Richard Stone for these and other shows.

Stone was widely considered the modern-day successor to Carl Stalling, the legendary composer
who wrote hundreds of wacky musical scores for such Warner Bros. classics as "Looney Tunes"
and "Merrie Melodies" from the late 1930s to the 1950s.
He helped to revive the Stalling tradition of using a full orchestra, synchronizing the music to characters' movements and employing musical effects to convey the Warner brand of cartoon humor--witty without being cute. He even composed on the same studio Steinway and conducted on the same stage that Stalling used.

"I think the hallmark of Warner Bros. cartoons is a certain kind of sarcasm and sly humor," said Steve Bernstein, a Warner Bros. composer who worked with Mr. Stone. "You know, if there was a bucket of glue on the screen, the music was 'The Old Gray Mare Just Ain't What She Used to Be.' Carl Stalling created that language, and Richard was a master at speaking it."
"I always try to keep the Stalling language going," Richard Stone once said. "If
something falls without a piano glissando, it doesn't fall.

"We still use the xylophone for an eye blink and we still play 'The Lady in Red' when a character wears a red dress. We do this to honor Carl Stalling, but also to keep conversant with the Warner Bros. tradition."

Although faithful to the Stalling legacy, he also incorporated elements of jazz, Broadway, country and rock music into his work.


Stone really liked his work. "It's wonderful," he said of serving as supervising composer for Animaniacs in a 1993 interview in the Cleveland Plain Dealer. "I grew up watching classic Looney Tunes. They were always a big part of my life, and now to stand there on that stage and to conduct that orchestra is almost a religious experience for me. This is the zenith, the high point of my career."

New scores were written for every show. They were performed by a 30-piece orchestra made up of studio musicians. In the Stalling tradition, Mr. Stone would quote from melodies in the public domain such as "I've Been Working on the Railroad" and classical pieces to create scores that were intricately synchronized to the animation and peppered with musical puns.

"We'll go from Wagner to bluegrass in the same five seconds," he said in a 1998 interview in Daily Variety, the entertainment trade publication. "If you see a boulder fall on somebody, it's a lot funnier if there's a piano glissando and a big timpani hit."

Stone had a dry wit. His brother David said that Mr. Stone once interviewed television chef Graham Kerr for a school project. He asked him whether his nickname, the "Galloping Gourmet," had anything to do with prunes.

He grew up in Philadelphia watching "Looney Tunes" cartoons. He was exposed to music through his father, who played the piano, and his maternal grandfather, a music critic for the Philadelphia Inquirer.

Stone studied cello and music theory at Indiana University. He moved to California in 1980 and spent his first several years in the business as a music editor for such composers as Georges Delerue (on "Platoon" and other films) and Maurice Jarre (on "Witness"). He went on to write music for various feature films and television projects, including the cult classics "Sundown: The Vampire in Retreat" and "Pumpkinhead," as well as "North Shore" and the miniseries "In a Child's Name." Stone began his animation-music career on the Steven Spielberg-produced "Tiny Toon Adventures" in 1991 and scored well over 100 cartoons since then.

Below is a selection of themes Richard Stone wrote for various cartoon shows,
as well some earlier theme music written for television and movies.
Click on the links below to hear the music.
Remember: the music may take a minute or two to load, but be patient; it's worth it!
Trouble hearing the music? Click here for more information.
Theme from the TV miniseries In a Child's Name
Comments? Send us email.
Music Troubleshooter: To hear the music, you need to have Real Player version 5.0 or higher on your computer. If you can't hear the music, you may not have Real Player on your computer, or you may have a version older than 5.0. To go to a page where you can download a free copy of Real Player, click on the logo below.